Steve Payne founder/ceo
Steve's earliest musical influences came from listening to his older brother's 45rpm records of Chuck Berry, Roy Orbison and the Everly Brothers; soon after came the LP record and the Beatles British invasion. Steve played bass guitar in an 8 piece soul band during the mid sixties. He attended VCU (philosophy) and J. Sergeant Reynolds (electronics/electrical engineering). In 1976 he left school to take a job as a live soundman with a full time band. Since then Steve has worn a multitude of hats in the music business, including; artist management, indy record company exec, promoter, performance facility designer / owner, commercial recording studio designer / owner, and touring sound engineer / road manager. Since 1991 Steve's focus has been exclusively on the growth and development of Soundworks as a premiere service provider for the entertainment and special event industry.
Grant Howard president/senior engineer

Grant got his first exposure to pro audio when he attended the Institute of Audio Research in New York City in 1987. He put his formal training into practice by first working for On Time Music, a backline rental company, then graduating to house sound tech at various clubs around the city, culminating in a gig as house tech for the Lone Star Cafe. In 1990 Grant took a break from the music business and served his church as a missionary in New Zealand. In 1992 he returned to his hometown of Richmond, VA where he did a brief stint as sound engineer for Iron Dog Audio. In May of the that year, Grant signed on with Soundworks. Grant has been a cornerstone of Soundwork's dedication to exceptional service since coming on board in 1992.
Bryan Hargrave engineer, computer geek, cool guy
Bryan got his first taste of production when he was only 17 years old as he hopped on a tour bus for a 3 day run providing local labor for a national tour. Despite being voted least likely to survive in the industry among that crew; he has gone on to excel in a long lasting career in concert and event production spanning nearly half a lifetime. Bryan spent his early years in Richmond, VA as a monitor engineer/systems tech but quickly decided that a touring lifestyle was more appealing. After nearly a decade of traveling  to all corners of the world with acts like Hanson and Carole King, Bryan found his home once more in Richmond – at Soundworks. Having freelanced for Soundworks during his downtime for over a decade Bryan was a great fit.  In addition to mixing and field teching, Bryan handles all of the system  networking and computer integration, general maintenance and overall quality control.  Bryan's experience, work ethic and commitment to excellence make him a natural as a top tier member of the Soundworks team.
John O'Donnell freelance engineer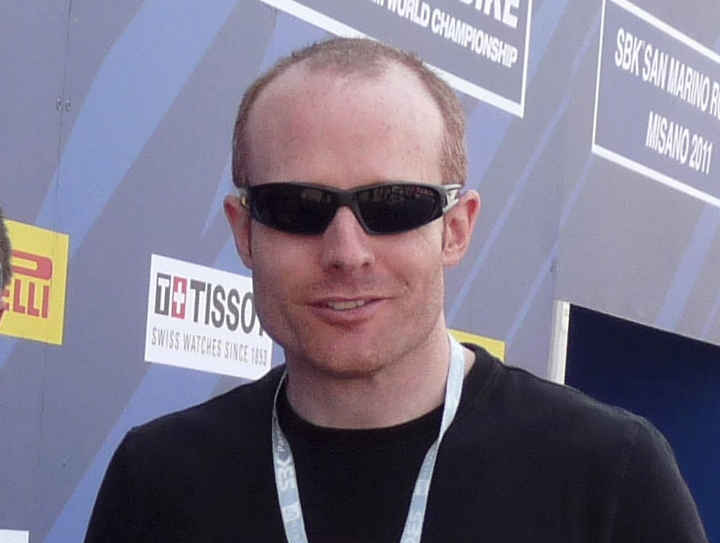 John has been enamored with music and sound production for as long as he can remember. Growing up in the Boston suburbs, he stumbled through a few years of clarinet lessons before discovering the drums. And there was no looking back! He began mixing bands part-time during college. After graduating he spent nearly a decade in The Rachel Leyco Band, drumming and producing their studio projects. During that time he was also booking music and mixing live sound at the University of Richmond. He has the unique experience of working with Soundworks from three perspectives; as performer, as concert promoter, and now as engineer. John shares the Soundworks vision of providing incomparable service and strives to make every event its absolute best.
Chris Buford freelance engineer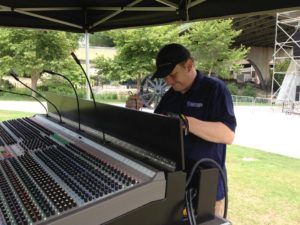 Chris's road into sound production got it's start when he began taking his analog cassette deck down to the Flood Zone (coincidentally co-owned by Steve Payne) in 1993 to tape the Dave Matthews Band. While continuing this hobby, Chris met the Soundworks guys taping bands at local events like Friday Cheers. One of these bands he recorded was local favorite Carbon Leaf. After becoming friends with them, Chris decided to pursue his love of audio and attended The Recording Workshop in Chillicothe, OH in 2001. Chris began touring with Carbon Leaf as a monitor engineer in the summer of 2002. When the band is off the road, Chris is proud to be part of the Soundworks freelance team.